Gifts, Lights, Crackers, Chocolates, Sweets, Brand New Clothes(of course) and never ending happiness. DIWALI brings so much along with it. And yeah, we are are eagerly waiting for Diwali, after all it's the best time of the year, right?
Each one of us must have something or the other associated with Diwali and it brings something new every year. 
Promotions: Yes, Bonus: Hell Yes, Gifts: Of Course, New things: Yes and what not. The best part of Diwali doesn't lie in tangible things but in numerous intangible feelings and emotions that are shared. After all, it's all about creating memories and having fun, right?
So, here is something we are asking you people, What's your Diwali Delight? I'm sure each one of you must have thought something for Diwali this year. Why not share it with us? After all, sharing is caring. 😛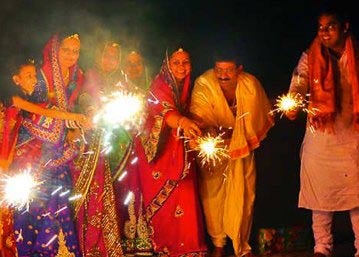 Do let us know about your Diwali Delights in the comment section below and share your happiness with as many people as possible because there are very limited people that get a chance to celebrate Diwali with their family and in a way they want. :')
Talking about twitter trends, #whatsyourdiwalidelight was started by Citi Bank asking their customers about their Diwali surprises and was very popular yesterday and many people shared their anticipations and expectations towards Diwali. Here are some popular tweets that increased our excitement and will surely infect you as well
This delightful gift surely lighten up her house #WhatsYourDiwaliDelight this one 4 U @nishajg @DiwaliDelights pic.twitter.com/YjuAtEHBQG

— Mohit Jain (@iam_bajaj) October 22, 2016
Wanna gift this cool make up kit to my sister. #WhatsYourDiwaliDelight  @DiwaliDelights pic.twitter.com/pAAKjKScQt

— Pooja (@lkygrl18) October 22, 2016
Would gift these Bollywood inspired Jhumkas to @Anupama75 @DiwaliDelights #WhatsYourDiwaliDelight pic.twitter.com/LuW2tDTVvo

— Aditi Rashmi (@aditikaps) October 23, 2016
Getting pen drives filled wid Hemant kumar, KL Saigal, Rafi/Lata songs & some of these for the elders this Diwali.#WhatsYourDiwaliDelight pic.twitter.com/DvgUIgNGsP

— Gabbbar (@GabbbarSingh) October 22, 2016