Taj Mahal is one of the seven wonders of the world. Being the most splendid creation of its time, there are facts that are lesser known to world. Here are 8 unknown facts about Taj Mahal and its creator, Shah Jahan.
1. The minarets on the four corners of the Taj are bending outwards. Yes, it was one of the most wisest decisions of the architects to protect the Taj Mahal from earthquakes. Whenever, a massive earthquake would hit Taj, minarets would fall outwards, thus protecting the inner dome.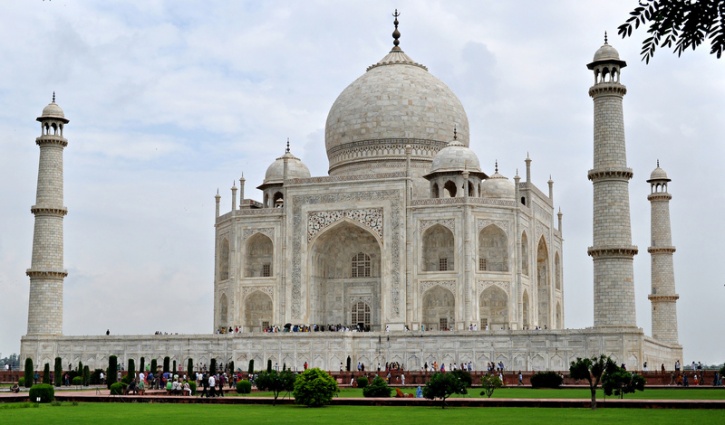 2. The Dome of Taj Mahal rises layer by layer as if floating on the front facade. This was again a brilliant idea of the architects. The main reason behind this was the currents of Yamuna river. We all know that it is built on the banks of Yamuna, and it is very difficult to start any construction near the bank of any river. The water between the stones gives them stability and hence the result is enforced.
3. The Great Gate (Darwaza-i-rauza) is an optical illusion. It offers entrance to the great Taj Mahal. When you approach the gate the Taj moves away from you and vice-versa.
4. The construction of Taj Mahal  began post 6 Months the death of Mumtaj. It was Mumtaj's last desire that one of the most splendid monuments should be made for her after her demise.
5. Mumtaj was Shah Jahan's fourth wife and died while giving birth to their 14th child. She was his childhood friend and favourite amongst all his wives.
6. After her death, Shah Jahan went into confinement for about 2 years. He grew extremely old in these years and wore no jewelley and heard no music.
7.  The Taj Mahal is a combination of different colours representing one thing or the other. The outside gate is made of red marble. The white marble of Taj symbolises enlightenment, spirituality and faith. 
8. The story of cutting the hands of 22,000 workers after its contruction is probably a myth because these workers also constructed many of other monuments in Shah Jahan's dynasty.