It isn't everyday that Bolywood comes in contact with an enigma as vibrant and extraordinary as Bhanurekha Ganesan. "Who..?" you ask..? It is our very own Rekha Ji. Today, on the occasion of her 62nd birthday, let's take a trip down the memory lane and appreciate one of Bollywood's finest!
5. Silsila
A film, way ahead of it's time, Silsila did okay-ish on the Box Office. It is however,  now considered to have become a true classic because of one true dishearthening fact. Silsila marked the end of the ravishing on-screen pair of Rekha and Amitabh Bachchan. Anyhow, they left us with some beautiful memories in the song "Dekha Ek Khwab".
 4. Khoon Bhari Maang
Before the Avengers, there was Aarti, ready to avenge her husband's murder by taking Sanjay Verma (Kabir Bedi) for a ride. Alright, maybe the comparison was too random to actually keep in persective but it is true!
Rekha, not only made a thrilling comeback as not just a pretty face but also a badass actress with Khoon Bhari Maang, she was also considered to be the pioneer in providing significant roles to women in Bollywood cinema.
https://www.youtube.com/watch?v=Tm4stHaYd7I 
Yea, I am sorry but all I thought about after watching the video of the movie's song "Haste Haste Kat Jae Rastein" was that… How could a guy with such 'moves' become a father to someone like Hritik Roshan! (I am really trying to stick to the topic but DUDE THOSE MOVES!)
3. Khubsoorat
Nope, not the one with Sonam Kapoor and who is that guy..? The one who killed the hopes of every guy who ever wanted to be with a girl? Yea… I am not talking about that Khoobsurat! I am definitely not talking about the Urmila Matondkar one. 
Rekha won her first Filmfare Best Actress Award for her role and was loved by the audience as Manju Dayal, a sweet innocent girl who just wanted to see everyone happy.  
2. Muqaddar Ka Sikandar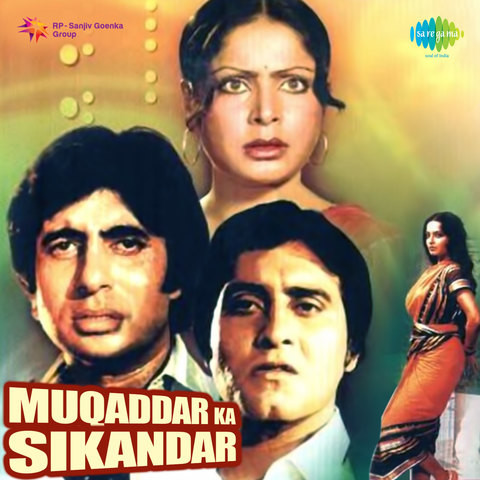 The highest grossing film of 1978, Muqaddar Ka Sikandar truly gloried the beauty of Rekha. It is believed that people would sleep in front of the theatres at night just to get their tickets to the movie to watch the ever desired on-screen couple of Rekha and Amitabh Bachchan.
 A film that gave us all time classics such as "Rote Hue Aate Hein Sab" and "O Saathi Re Tere Bina", it will always be remembered for this song:
1. Umrao Jaan
Based of the 1905 Novel "Umrao Jaan Ada" written by Mirza Hadi Ruswa, Umrao Jaan was a film that was destined for Rekha. There are some roles that define the actors who play them. For Rekha, it was the role of Amiran – a famous Lucknow based courtesan. 
Rekha was such a perfect fit for the role that nobody… not even Miss World – Aishwarya Rai Bachchan could replace her charm in the 2006 remake.
"Dil Cheez Kya Hai"… need I say more?
To the first Bollywood diva who had it all… the style, the grace and most importantly (looking at today's talent) the acting skills, HAPPIEST BIRTHDAY REKHA JI! 😀