Disclaimer: The information contained in this article is for general information purposes only. We make no representations or warranties of any kind, express or implied, about the completeness, accuracy or reliability. Any reliance you place on such information is therefore strictly at your own risk.
This is the story of a certain "Mr. Wright", who was said to have orange sized tumors in his neck, groin, chest and abdomen and was detected with cancer in 1957. Hospitalised in Long Beach, California, Wright had run out of all the available treatments. 
The doctors believed that he would not survive another week. He was waiting for his death to arrive, anytime now. Anyhow, one day he got to know about a horse serum while reading the newspaper. He read about a drug called Krebiozen (an apparent anticancer drug discovered during the 1950s) and somehow was thoroughly convinced that it will cure him of cancer.
He pleaded the doctors to give him this drug. However, the drug was new and there was a criteria to be matched for a patient to be given a dose of Krebiozen. The patient had to have at least 3-6 months to live to take the trial and he only had a week at max. Even then he pleaded for the dose. Taking a blind shot worth nothing, doctors gave him his dose.
Mr. Wright was given his first dose in the hospital when he was bedridden and too weak to even stand up and the doctors had no expectations out of the drug. What happened the next day shocked the doctors, media, everybody. Mr. Wright was seen roaming around the hospital sharing jokes with the nurses! His tumors had melted and reduced to less than half of what they used to be! He was discharged within the next 10 days. HE HAD CURED HIS CANCER!
 One morning, the American Cancer Society launched a report saying that Krebiozen wasn't helpful against curing cancer. After reading this news, guess what… Mr. Wright was back in the hospital, bedridden with the bloated up tumours.
This time, the doctors cooked up a story of how a new, more powerful version of Krebiozen had launched in the market and will be available at all hospitals the next day. Mr. Wright was again excited. His hopes were at cloud eleven and he was ready for his magical drug. 
The next day, doctors gave Mr. Wright an injection that consisted of normal saline (salt and water) and nothing more. And this time, as expected, Mr. Wright got over his cancer and was discharged within days of his dose of saline water!
 He had won the battle against cancer. He was a pilot and continued to fly his aeroplane like he used to, before being diagnosed with cancer. He carried on with his life, until one day, a final report by the American Medical Association declared that Krebiozen was a completely worthless drug that had no impact on cancer or any other disease. 
Next… Mr. Wright died. Not because of cancer but because of loss of hope. Hope that a drug, that had no effect on the hundreds of other patients it was tried on, had cured him NOT ONCE BUT TWICE of cancer.  The same hope that enabled him to get over with cancer without any medication but saline water. 
This is called as the Placebo Effect. "Placeboes are lies that heal" said Dr. Anne Harrington, Harvard University. There have been a series of medical experiments in which patients have been given hope by lying to them about a certain operation or a drug. Many of them have been reported to have worked. 
Remember when Barney said this..?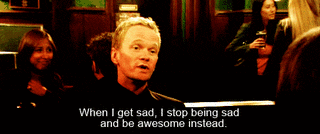 Yea… that is exactly what the Placebo Effect is! 
Our mind is a mysterious place. It has the potential that knows no limits. We have seen or heard of extraordinary things happening to people and Mr. Wright's story is just there amongst the most unbelievable stories of what a mind can do.